Can Caillou Find the Missing Letters?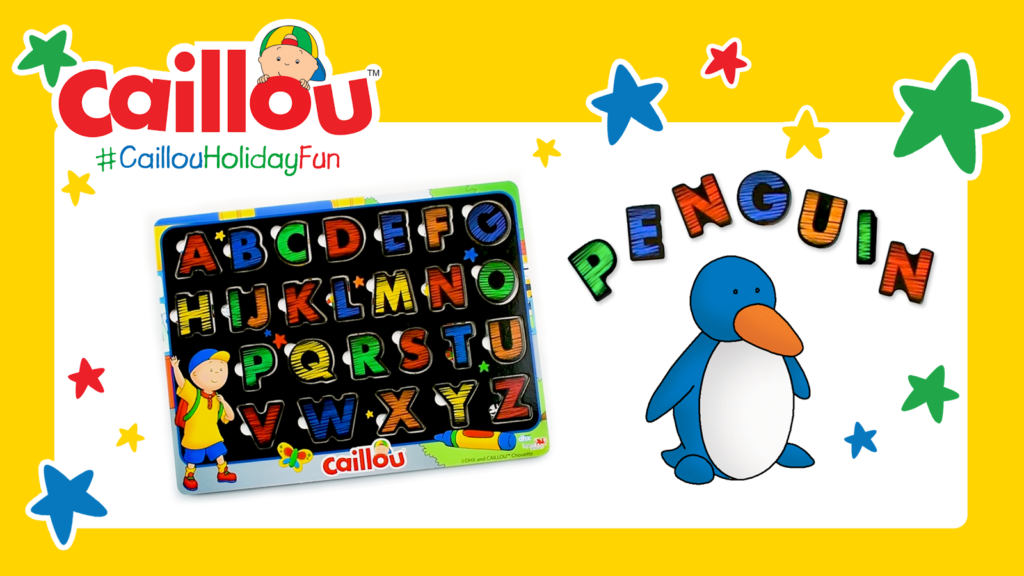 To celebrate the launch of the new Caillou wooden A-Z Puzzle this Christmas, a new stop motion video starring the Caillou Buildable Figures is now available on the official YouTube channel.
The video was made using stop motion and is one of many Caillou toy stories now available. Find them all on this Playlist.
Caillou A to Z Learning Puzzle
A is for Airplane
B is for Boat
C is for Caillou!
The Caillou A-Z Puzzle helps teach kids the alphabet in a fun way. The quality constructed wood pieces reveal images that relate to the letter in use, so children can easily associate and recognize sounds. The puzzle is 11 inches wide by 8.5 inches tall, and made from soft wood, with a wipe-clean coating. Featuring cute Caillou illustrations from the hit TV and YouTube show, the puzzle helps develop hand-eye coordination and problem solving.
The puzzle is available to purchase in the US and Canada at Amazon.com on this link http://bit.ly/Caillou_Puzzlewb
Caillou Buildable Figures – Caillou and Dinosaur
The adorable Caillou and Dinosaur combo figure pack is the perfect fun preschool collectible toy set! These bright and interactive plastic Caillou and Dinosaur figures have been designed for children from 1 years old and upwards to help with mechanical development while stimulating the imagination and creativity.
The figures are available to purchase in the US and Canada at Amazon.com on this link http://bit.ly/Caillou_DinoToys_Website
Please do share! – what stories do your kids create with their Caillou toys? Join us over  on Facebook and Twitter! #CaillouHolidayFun
« Older News